At Edge 4, we work with each client to determine the maintenance services that are appropriate for their website. Many clients prefer to update their own website by using DataWave. Some clients like for Edge 4 to handle all their maintenance. And finally, others go with a combination of these two options, using DataWave to make simple changes and Edge 4 for other changes.
The most common complaint about web developers involves how long it takes for them to make website changes. However, Edge 4 is proud of how fast we provide our maintenance services. For easier requests, we almost always complete the needed changes within 24 hours. And for more involved projects, we always provide our best estimate of when the work should be finished.
Edge 4 always tries to provide good service at a fair price. And this philosophy definitely applies to our maintenance. For clients that want to make changes to their own website, we only charge a small monthly fee for the use of DataWave. In addition, we also offer a discounted rate to those clients who are willing to guarantee a specific amount of maintenance each month.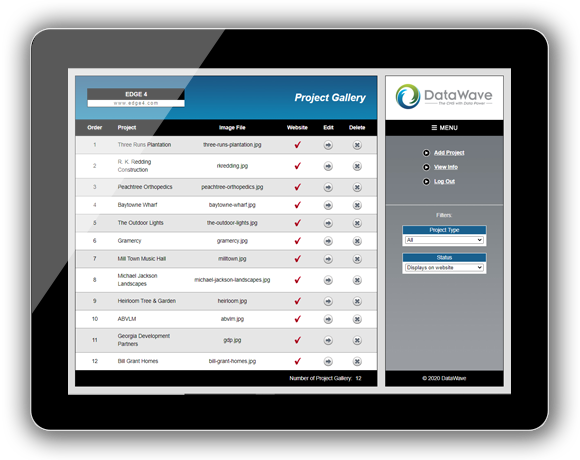 What is DataWave? Basically, it is a very powerful online program that Edge 4 has created to provide two important services:
Easy-To-Use CMS
DataWave makes adding and editing website content as easy as possible. Content can be entered by users with no knowledge of HTML and no previous content management experience.
Customizable Data Entry
DataWave is the perfect solution for adding and maintaining almost any kind of data. This data is also available to be displayed on your website.